Whispers of Gallipoli
by Anthony Ritchie, for baritone and piano, Opus 178
These songs build a picture of events surrounding Gallipoli through extracts from poems, songs, diaries and interviews.
YEAR: 2014
DURATION: 30 minutes
COMMISSIONED BY: Robert Tucker
LEVEL: 3 | Professional and semi-professional musicians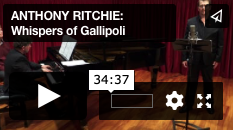 Programme Note
Whispers of Gallipoli was commissioned by Robert Tucker for performances in 2015, commemorating 100 years since the ill-fated Gallipoli war campaign.
We hear different perspectives: from eye-witness accounts, from anxious mothers, from officers in command, from poets looking back on the campaign, from death itself, personified. Text from popular culture is mixed with Maori text, and there are poems both contemporary and old. The music sometimes dramatizes these words, sometimes reflects on them.
At the heart of the song cycle is a setting of the poem Anzac by Trooper Argyle Campbell.
Whispers of Gallipoli is a comment on a disastrous campaign, and the humanity of those involved. The final song, with words taken from the Ataturk Memorial in Turkey, is a reconciliation of the two sides who took part in this battle.
The song cycle is divided into three parts:
Before Gallipoli . . . ca. 7 minutes
During Gallipoli . . . ca. 16 minutes
After Gallipoli . . . ca. 8 minutes
This composition was made possible with the financial assistance of The University of Otago, 2014.
Buy the right to download a single pdf score, online, and permission to duplicate or print it as required for one baritone: NZ$25.00
Note that the texts are printed at the end of the score.
Orders are saved in a secure Paypal shopping cart which is viewed on a separate browser tab. When you have finished shopping, simply Check Out for a Secure Guest check out using your credit card, or to use an existing Paypal account choose Paypal Check Out.
Orders are processed every 5 minutes. An email with a link to each file should arrive within 6 minutes of checking out. If it does not arrive we will likely notice during a New Zealand working day but please send an email to bellbirdpublications at gmail dot com if you have any problems with ordering.