Violin Sonata Number 3
for Violin and Piano, by Anthony Ritchie, Opus 187
YEAR: 2015
DURATION: 19-20 minutes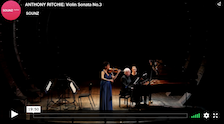 The three movements have the following subtitles:
I Dreams
II Lament
III Dance

Programme Note
The first movement strives towards a sonata form but, as in a dream, slides elusively from one mood or character to another. Ideas develop from the opening melody on violin, along with the mysterious arpeggiated idea starting at bar 15, where the music unexpectedly slides into a faraway tonality. A gradual acceleration leads to an 'allegro' section that sounds like the main theme of the sonata form, but this dissolves back into the opening again. A second build up to another 'allegro' section leads to a seemingly new idea at letter J, dark and primal in character. It builds to a climax at bar 210, where the arpeggiated theme is transformed into a jagged modal statement, again dissolving into the opening. The recapitulation includes dream-like violin scales, and drifting piano harmonies. Although the violin has an emphatic C-E dyad at the end, the tonality is left unresolved: is it C, D or E? All three tonal poles have played a role in the first movement.
Although D is more firmly stated in the second movement, the tonality is still ambiguous at the end. This lament alternates the opening idea on piano (based around the cycle of semitone + major 3rd), with a soulful violin melody starting at bar 9. Following a short violin cadenza, the piano introduces an ethnic-style idea and the music accelerates into a new section at letter E. The new melody on violin grows out of the short cadential idea at bar 13-14. There is a sense of the mind escaping reality briefly before returning to the opening lament again.
D is finally established as the main tonal centre in the third movement, which is a quirky, folk-like dance, a little similar to a gig. The violin announces the main theme by itself, and the piano responds with a different idea that is more angular and elusive. The two ideas are developed before the music slips into a more static, repetitive texture at bar 72, ethnic is character. The main themes return and are varied before the music accelerates into a dynamic coda.
Duration: 19-20 minutes approx.
Violin Sonata No.3 was composed on request from violinist, Manu Berkeljon, for performances in 2016 and 2017.
Dedicated to Manu
This composition was supported by The University of Otago.
Buy the right to download a pdf document with the full score and violin part, online, and permission to duplicate or print as required for one violin player, for NZ$25.00:
Orders are saved in a secure Paypal shopping cart which is viewed on a separate browser tab. When you have finished shopping, simply Check Out for a Secure Guest check out using your credit card, or to use an existing Paypal account choose Paypal Check Out.
Orders are processed every 5 minutes. An email with a link to each file should arrive within 6 minutes of checking out. If it does not arrive we will likely notice during a New Zealand working day but please send an email to bellbirdpublications at gmail dot com if you have any problems with ordering.