Violin Concerto
by Anthony Ritchie, for violin and orchestra, Opus 165
An audience favourite.
YEAR: 2012
DURATION: 23 minutes
Watch Bella Hristova perform Violin Concerto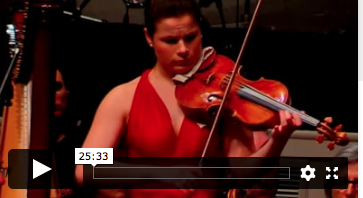 The published score can be purchased from Wai-te-ata Music Press
I - Andante espressivo . . . 10:30
II - Allegretto . . . 4:30
III - Allegro con brio . . . 7:40
Programme Note
Performed by the Southern Sinfonia (conductor Tecwyn Evans) with violinist Bella Hristova at the Dunedin Town Hall.
The first movement of the concerto is lyrical in nature, the violin maintaining an expressive line most of the way through. At the start, the violin is like a voice singing in a dim-lit room, surrounded by shadows that rise and fall. A short violin solo follows, featuring anguished chords, before the shadows return. This leads to a new theme underpinned by marimba and harp, reminiscent of the sounds of the gamelan. Emotion is controlled here, before being released in a short climax that follows. In the middle section of the movement the shadows reappear but distorted, and transform into a bizarre dance-like idea. The violin is forced to dance along, before the music morphs back into the gamelan-like theme and the movement sprawls to an end.
Counter-balancing the long, somber first movement is a short and impish second movement that links directly into a fast finale. A dialogue between timpani and solo violin is set up at the start and becomes a feature of these two movements. The violin is bird-like in its gestures, flickering from one idea to another, while the timpani and strings are initially earth-bound and crude. This leads to a trumpet theme based on a 5-note scale, simple and joyful in character. The violin continues to lead the orchestra on a merry dance until the climax, where the trumpet theme is undercut by a bass-line in the wrong key. A cadenza for violin and timpani links the music directly into the third movement, a fast dance-like piece featuring themes that have an ethnic quality. The main melody is based on the mixolydian scale and uses cross-rhythm to break up regular patterns. After the orchestra has joined in with its own variation, the brass announces a rollicking second theme, followed by a spiky melody on violin, accompanied by strings. A developmental section follows where all three melodies are discussed, climaxing in another cadenza. Finally the soloist shakes off the rumblings from the timpani, and diverts into a quirky triple-time passage. Just as the strings join in the soloist suddenly goes back to the main theme, and the concerto is brought to a speedy conclusion.