The God Boy
by Anthony Ritchie, a chamber opera in 2 acts, Opus 111
An opera in two acts, with libretto by Jeremy Commons, based on the novel by Ian Cross. Designed for an intimate theatre, with the voices accompanied by a chamber orchestra.
YEAR: 2004
DURATION: 90 minutes
INSTRUMENTATION: 8 soloists: high baritone, treble, 3 sopranos, bass-baritone, contralto, baritone, chorus of children (mixed) 2 violins, viola, cello, bass, flute, oboe, clarinet in A, trumpet, percussion (1 player), keyboard
LEVEL: 4 | Challenging for professional musicians
Watch a sample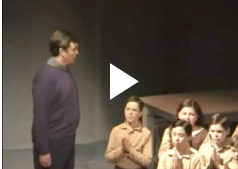 Programme Note
In 2001, my old composition teacher and mentor Dorothy Buchanan informed me she was starting on a new opera based on The God Boy by Ian Cross. What a wonderful idea, I thought; I wish I had dreamed up that one. The God Boy had long been a favourite novel of mine, and the version for screen was of my favourite films. Six months later, I had a phone call from Dorothy, offering to hand over the libretto to me if I wanted it. She had found the story too dark to deal with, and wanted to give someone else a chance to write the work. I was overjoyed to have this opportunity. Librettist Jeremy Commons bravely agreed to the change in composer, and I started work.
I was keen to write this opera for several reasons. First and foremost I have always found the story to be deeply moving, especially the terrible contrast between innocence and adult realities. Having being brought up a Catholic I still remember hoping, as I read the novel, that Sister Angela would put things right for Jimmy. But, of course, sometimes things cannot be put right, and Jimmy is left scarred at the end of the story. For me, this story represented part of my own 'growing up'. The drama of the story, beautifully condensed in the libretto, is appealing for a composer. There is plenty of scope for strong musical gestures and colourful scoring. Finally, this was my first opportunity to write a full-length opera with larger resources involved, and I was thrilled when Opera Otago offered to mount a production.
The opera uses musical motifs associated with the main characters, Jimmy, Mr and Mrs Sullivan and Molly, as a structuring device. It is through-composed rather than following the pattern of recicative, aria and chorus, although there are passages of recicative-like singing, and even speaking. Sometimes scenes are bound together by particular forms, such as the passacaglia (repeated bass melody) when Jimmy and his mother say their farewells, near the end. Three hymns from my Catholic past are used in particular scenes, for added meaning: Glory be to Jesus who in bitter pains (scene with Father Gilligan and Sister Angela), The Lord's My Shepherd (scene with Jimmy and Sister Angela, where Jimmy says he's a 'god boy'), and Soul of my Saviour (final chorus). Other melodies and harmonies derive from these hymns throughout the opera.
I was fortunate to have a sympathetic librettist in Jeremy, who conceived his script in terms of music, and allowed me to make changes where necessary.
The God Boy was premiered in Dunedin on October 1st, 2004, and ran for 4 nights as part of the Otago Festival of Arts. The composing of the music was completed as part of Anthony Ritchie's research at the University of Otago. The studio recording was funded through a Humanities grant from the University.
Buy the right to download the scanned score as a pdf, online : NZ$10.00
Buy the right to download the typeset vocal score as a pdf, online, and permission to duplicate or print it as required for one group : NZ$10.00
Orders are saved in a secure Paypal shopping cart which is viewed on a separate browser tab. When you have finished shopping, simply Check Out for a Secure Guest check out using your credit card, or to use an existing Paypal account choose Paypal Check Out.
Orders are processed every 5 minutes. An email with a link to each file should arrive within 6 minutes of checking out. If it does not arrive we will likely notice during a New Zealand working day but please send an email to bellbirdpublications at gmail dot com if you have any problems with ordering.