Sultry
by Anthony Ritchie, for guitar, Opus 139b
This short piece is evocative and playful, showing off different sides of the guitar. It is aimed at around grade 8 to LTCL level.
YEAR: 2009
DURATION: 5 minutes
LEVEL: 3 | Professional and semi-professional musicians
Watch Matthew Marshall perform Sultry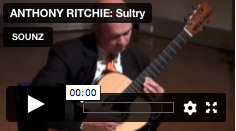 Buy the score from Hatchet Music
Programme Note
This short piece for solo guitar evokes one of those unusual, hot summery evenings in the deep south of New Zealand, where the sun never seems to set and the sky has strange colours. The slow sultry opening gives way to a sensual dance-like section, ending with a more up-beat and slightly bluesy coda.
Sultry was commissioned by Matthew Marshall and first performed by him.