Spirals
for 2 violins and a viola, by Anthony Ritchie, Opus 203
The piece is inspired by the beauty of the koru (the carved spiral shape in Maori culture), symbolizing new life, growth, strength and peace. This short piece is wistful and playful.
YEAR: 2018
DURATION: 6 minutes
COMMISSIONED BY: Adam Chamber Music Festival
LEVEL: Professional
Watch the first performance on the SOUNZ website.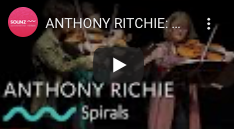 The Maori koru is represented musically by an unfolding cycle of 3rds. The chord sequence based on this cycle grows in size and energy until it reaches the loudest and highest point of the piece. Melodically, the piece is based on a simple, almost naïve rising motif (F-G-A-C-A) which is developed organically.
The mood is wistful, but also playful and enigmatic.
Spirals was commissioned by The Adam Chamber Music Festival 2018 for performers Helene Pohl and Monique Lapins, violins, and Gillian Ansell, viola, to premiere on Waitangi Day, February 6th, 2019.
Buy the right to download a single pdf score, includes score and all parts, online, and permission to duplicate or print it as required for one trio : NZ$15.00
Orders are saved in a secure Paypal shopping cart which is viewed on a separate browser tab. When you have finished shopping, simply Check Out for a Secure Guest check out using your credit card, or to use an existing Paypal account choose Paypal Check Out.
Orders are processed every 5 minutes. An email with a link to each file should arrive within 6 minutes of checking out. If it does not arrive we will likely notice during a New Zealand working day but please send an email to bellbirdpublications at gmail dot com if you have any problems with ordering.