Purakaunui at Dawn: for Clarinet Quintet
for Clarinet Quintet, by Anthony Ritchie, Opus 177
A simple evocation of early dawn at the seaside village of Purakaunui, near Dunedin in New Zealand.
Year: 2014
Duration: 5 minutes
Instrumentation: clarinet in A, 2 violins, viola, cello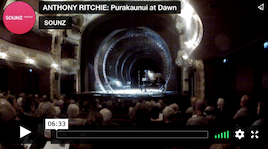 In amongst a soft dawn chorus a bellbird motif rings out clearly, and is echoed around the bay. Following a silence, the bird motif is inverted, and the music becomes introspective in character, with long, singing lines on both violin and clarinet. The birdcall returns in the coda.
Purakaunui at Dawn was composed for Anna McGregor and Dalecarlia, a quintet based in Sweden, for their 2014 tour of New Zealand. It has been recording by Atoll Records on the CD Fjärran, which won Best classical recording in the 2016 New Zealand Music Awards
This composition was supported by The University of Otago.
To purchase, choose from the download options below:
| | |
| --- | --- |
| Download the full score, for $NZ 15.00: | Download a pdf containing all parts, for use by a single quintet, for $NZ 25.00: |
Orders are saved in a secure Paypal shopping cart which is viewed on a separate browser tab. When you have finished shopping, simply Check Out for a Secure Guest check out using your credit card, or to use an existing Paypal account choose Paypal Check Out.
Orders are processed every 5 minutes. An email with a link to each file should arrive within 6 minutes of checking out. If it does not arrive we will likely notice during a New Zealand working day but please send an email to bellbirdpublications at gmail dot com if you have any problems with ordering.