Procession
by Anthony Ritchie, for orchestra, Opus 131
A short lively piece for amateur orchestra. Buoyant in tone and inspired by street processions.
YEAR: 2007
DURATION: 4'30
COMMISSIONED BY: Manukau City Symphony Orchestra
INSTRUMENTATION: 3222 4231 timp, 2 perc, harp, piano strings
LEVEL: 2 | Proficient amateurs and students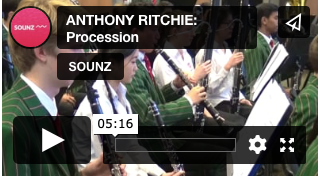 Programme Note
Procession was commissioned by The Manukau City Symphony Orchestra, as part of the Composer-in-Residence position held by the composer. It was written for the orchestra's April concert in 2008.
The music was inspired by street processions such as Santa parades, graduations, or protest marches which have played an important part in New Zealanders' lives. It opens quietly as the procession approaches from afar, with a rhythmic idea on the woodwinds which is picked up by strings. The trumpet plays a simple second theme, which is then played in canon. The momentum builds to a climax, and a contrasting flute theme is presented. Themes are developed briefly before a rumbustious coda brings the piece to an end.
The mood is generally buoyant in tone, with strong march rhythms interspersed with some meter changes.
Buy the right to download a pdf of the full score: NZ$20.00
Buy the right to download a pdf containing all orchestral parts, and permission to print them for one orchestra: NZ$30.00
Orders are saved in a secure Paypal shopping cart which is viewed on a separate browser tab. When you have finished shopping, simply Check Out for a Secure Guest check out using your credit card, or to use an existing Paypal account choose Paypal Check Out.
Orders are processed every 5 minutes. An email with a link to each file should arrive within 6 minutes of checking out. If it does not arrive we will likely notice during a New Zealand working day but please send an email to bellbirdpublications at gmail dot com if you have any problems with ordering.