Lullabies
for soprano, childrens choir, SATB choir & organ, by Elena Poletti and Anthony Ritchie, Opus 182
Lullabies is a cycle of six lullabies, to be performed without a break. These six songs traverse different perspectives, both adult and child.
Watch the Auckland premiere.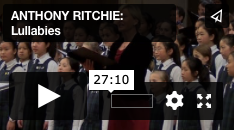 .
Programme Note
1. Shush-a-shush - main choir
2. Little One - solo soprano
3. Sounds of penguins - childrens' choir, main choir and soprano
4. The Nightsingers - soprano and main choir
5. Beddington - children's choir
6. Hope of my heart - childrens' choir, main choir and soprano
Poems by Elena Poletti
Music by Anthony Ritchie
Lullabies are common to all cultures, and are richly varied in their themes and moods. These six lullabies traverse different perspectives, both adult and child.
Shush-a-shush has a parent calming her child to sleep through images of the sea and beach.
In Little One it is gentle rain than lulls the child to sleep.
Sounds of Penguins makes a comparison between little blue penguins under a house, and children busily preparing for bed. The moonlight, wind, waves and lighthouse all conspire to finally calm them down.
In The Nightsingers it is the sounds of tree-frogs, ruru (morepork), and cats that accompany the lullaby; they are presented one by one and then are combined in the coda.
Beddington is a frisky lullaby for children to sing, and including a round and a Monster-Munch-Upi> chant.
The final song Hope of my heart reflects on a child's future, and remembers the passing of a sister and her child (represented in the song by the childrens' voices as echoes). All the forces come together in this song, to round off the cycle.
Lullabies was commissioned by The Auckland Choral Society for their 2015 season, and first performed June 6, in The Holy Trinity Cathedral, with funding from Creative NZ.
Dedicated to Elena Poletti
Buy the right to download a pdf online using one of these options:
Orders are saved in a secure Paypal shopping cart which is viewed on a separate browser tab. When you have finished shopping, simply Check Out for a Secure Guest check out using your credit card, or to use an existing Paypal account choose Paypal Check Out.
Orders are processed every 5 minutes. An email with a link to each file should arrive within 6 minutes of checking out. If it does not arrive we will likely notice during a New Zealand working day but please send an email to bellbirdpublications at gmail dot com if you have any problems with ordering.