Gallipoli to the Somme
by Anthony Ritchie, for soprano, bass, choir and orchestra, Opus 191
A version for Chamber Orchestra and Choir is also available.
YEAR: 2016
DURATION: 60 minutes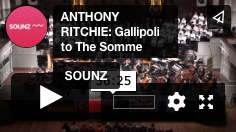 The University of Oxford has posted a podcast with extracts of the Oxford concert featuring Gallipoli to the Somme
Programme Note
For soprano, bass, choir and orchestra
How does one create a piece of music commemorating World War I? It is a daunting task, to say the least. There are already many great works that comment on this conflict, Britten's War Requiem, for one, a piece that I have loved since I was a teenager. This was an anti-war statement that resonated through a generation. Gallipoli to the Somme is more quietly anti-war, and aims to make a humanist statement about ordinary peoples' experience of the war. Ordinary people - soldiers, nurses, lovers, children from different nationalities - they are represented in some small way in this work, through diary entries, poems, traditional texts and songs, and even a military plan of battle. It is, of course, not possible to cover every perspective. There are four nations represented in the work: New Zealand, Britain, Germany and Turkey. The perspective that binds the whole structure together is provided by a soldier, Alexander Aitken, from the Otago Battalion in New Zealand. Aitken wrote a book about his experiences with the same title as this work: Gallipoli to the Somme, published in 1964, many years after the war. Aitken was a remarkable man, a professor of mathematics at Edinburgh University, and also a fine violinist.
Therefore, my composition traces Aitken's journey from his arrival in Gallipoli, his experience of Christmas 1915, his preparation for battle at the Somme, the loss of his comrades, and encounters with the German army. The sound of his solo violin, which he took with him through the war, also pervades the piece. Somehow the violin survived and found its way back to Otago Boys High, Aitken's old school. I have used extracts from Aitken's book (all prose), which are surrounded by a wide variety of other texts, most contemporaneous with the war. There are several poems by soldiers who died during the war, along with traditional song texts with re-composed music. There are even re-compositions of Schubert and Handel, resulting from Aitken experiences and thoughts. One example: at the Somme, Aitken see a sign-post with a finger pointing the direction to the town of Ypres. Even by September 1916 the name Ypres was infamous, and reminded Aitken of Schubert's famous song Der Wegweiser (The Signpost) that contains the ominous line "There's a road that I must wander / Where no traveller returns."
A unifying element in the work is the recurring 'battle music' - harsh, relentless, astringent and repetitive. There is no escaping the ugliness of war. The 'battle music' uses texts in different languages each time: Maori, English, German, and there is a purely instrumental version featuring the solo violin.
The work ends with words by the great Turkish leader Mustafa Kemal Ataturk, taken from the Anzac war memorial in Canberra. This healing text is set to the same music that begins the work, providing a frame for the whole oratorio.
Those heroes who shed their blood and lost their lives, you are now lying in the soil of a friendly country. Therefore rest in peace. There is no difference between the Johnnies and the Mehmets to us where they lie side by side in this country of ours. You, the mothers who sent their sons from far away countries wipe away your tears, your sons are now lying in our bosoms and are in peace. After having lost their lives on this land they become our sons as well.
Buy the right to download a single pdf score, online, and permission to duplicate or print it as required for one orchestra: NZ$25.00
Buy the right to download a single pdf document, online, containing all orchestral parts and the vocal score, and permission to duplicate or print it as required for one orchestra: NZ$100.00
Orders are saved in a secure Paypal shopping cart which is viewed on a separate browser tab. When you have finished shopping, simply Check Out for a Secure Guest check out using your credit card, or to use an existing Paypal account choose Paypal Check Out.
Orders are processed every 5 minutes. An email with a link to each file should arrive within 6 minutes of checking out. If it does not arrive we will likely notice during a New Zealand working day but please send an email to bellbirdpublications at gmail dot com if you have any problems with ordering.