Es ist ein Ros entsprungen
for SATB choir a cappella, by Anthony Ritchie. Opus 205
Programme Note
This arrangement of the Medieval carol was commissioned by Voices New Zealand for their mid-Winter Christmas-themed concert, 2019, directed by Karen Grylls. It uses two verses based on the 1599 Speyer version (put into modern German), plus a third verse by Friedrich Layriz, added in 1844. The first verse is then reprised, in freer form. The music should have a gentle flexibility in the tempo, in a similar manner to Gregorian chant.
YEAR: 2019
DURATION: 3:30
COMMISSIONED BY: Voices New Zealand
LEVEL: 2/3 | Proficient amateurs and students/semi-professional musicians
Watch performance by Voices New Zealand with Karen Grylls - begins at 3:25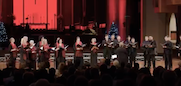 Orders are saved in a secure Paypal shopping cart which is viewed on a separate browser tab. When you have finished shopping, simply Check Out for a Secure Guest check out using your credit card, or to use an existing Paypal account choose Paypal Check Out.
Orders are processed every 5 minutes. An email with a link to each file should arrive within 6 minutes of checking out. If it does not arrive we will likely notice during a New Zealand working day but please send an email to bellbirdpublications at gmail dot com if you have any problems with ordering.