Coverings
for SSSSAA a cappella, music by Anthony Ritchie, Opus 173
poem by Elena Poletti
YEAR: 2013
DURATION: 4-5 minutes
TEXT: Elena Poletti
Watch Baroque Voices perform Coverings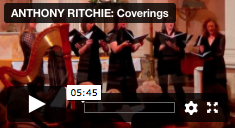 Programme Note
Coverings was commissioned by Baroque Voices for their concert "Alleluia: a newe work! 2013 (The Ceremony of Birth and Death)", on 16 November 2013 at Sacred Heart Cathedral in Wellington. It was written for the harpist Helen Webby along with 6 singers from Baroque Voices, under director Pepe Becker.
This song was designed to be performed alongside Britten's Ceremony of Carols, and explores the theme of renewal.
The text is a poem by Elena Poletti, specially written for this song, and uses the image of a little blue penguin moulting and renewing itself for future survival. The poet writes: "Each of the verses looks at the idea of renewal in a different way, moving from a very consumerist search for a new image to the inner psychological or spiritual renewal of the last verse. For me, the penguin is a reminder of just how vulnerable renewal can make us, and how costly it can be. The trees suggest that renewal is both cyclical and something that can happen even when there seems to be no possibility of it. The trees look dead, without their leaves, and without the sun's warmth, there would be no new leaves.
Performance note
This song was composed for one singer per part, but can be performed with more than one singer per part as well.
Coverings
A whole body's worth of coverings,
shed many times over,
spreads out over shelves and racks,
cast off to make way for something new.
Old feathers clumped at its feet,
The tiny penguin stands still as still
In the safe darkness of its burrow,
As this year's coat comes sleekly into place.
Trees stand stark against the storm,
Autumn richness drifted at their feet,
Waiting, enduring, until the great sun
Draws out anew a delicate green haze.
The painful peeling back of many layers,
The cracking through of encasing husks,
Might, just might allow tender new skin,
New skin of truth, to come into the light.
Elena Poletti, 2013.
Buy the right to download a pdf online using one of these options:
Orders are saved in a secure Paypal shopping cart which is viewed on a separate browser tab. When you have finished shopping, simply Check Out for a Secure Guest check out using your credit card, or to use an existing Paypal account choose Paypal Check Out.
Orders are processed every 5 minutes. An email with a link to each file should arrive within 6 minutes of checking out. If it does not arrive we will likely notice during a New Zealand working day but please send an email to bellbirdpublications at gmail dot com if you have any problems with ordering.