Clarinet Quintet
for clarinet and string quartet, by Anthony Ritchie Opus 124
A substantial work in 3 movements - a lively and energetic first movement - a brooding slow movement - and a restless uneasy finale.
YEAR: 2006
DURATION: 18-20 minutes
COMMISSIONED BY: Christopher Marshall
LEVEL: 4 | Challenging for professional musicians
Watch the Dalecarlia Clarinet Quintet play Clarinet Quintet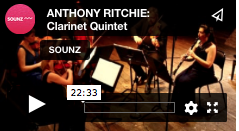 Programme Note
I - slow, restless - allegro con energico
II - slow and intense
III - fast and uneasy
In the last five years Anthony Ritchie has focused much of his creative energies on chamber music. Piano Trio composed in 2001 indicated a new direction, with use of 12-note rows and generally a freer approach to all musical parameters. The trio was followed by String Quartet No.2 (2003), Oppositions for Piano Quartet (2004), Rites of Passage, for bassoon and string quintet (2005), and now the Clarinet Quintet. A CD of Ritchie's chamber music has just been released by Kiwi Pacific Records, including the trio and piano quartet, along with sonatas for cello and viola from the 1990s.
Clarinet Quintet was commissioned by Christopher Marshall for his chamber music series "Christopher's Classics" in 2006. It was written for Gretchen Dunsmore, clarinet, and The New Zealand String Quartet, for a premiere performance on September 13, 2006. The composition was also written as part of the composer's work at The University of Otago.
The point of departure in this work is Mozart, in the year of his 250th anniversary. Motivic ideas are derived from the opening melody of his Clarinet Quintet, using a magic square to transform the pitches. No direct reference is made to the Mozart theme until the third movement, which is more diatonic in character.
The first movement begins mysteriously, with a clarinet solo interspersed with rustlings from the strings. This solo contains the seeds for the entire movement, which is fast, lively and angular, following the slow introduction. A more moody and edgy middle section gradually builds up to a climax near the end of this movement. Contrasting with this is a slow middle movement that opens with a simple and bold statement on the strings. Over the top of this the clarinet plays a lamenting melody. The first four notes are a quotation from the composer's opera The God Boy (Mrs Sullivan's motif) signifying anxiety and guilt. A slightly calmer middle section is free in tonality, and builds up strongly in intensity, followed by an abridged return to the opening.
The finale is a 'moto perpetuo' movement in which the diatonic opening idea is undermined by subtle tensions in the music. Although it is fast-paced and lively, it is also weary and uneasy in tone. A rousing final section leads to a quiet, fading coda, as the life in the music is gradually exhausted. Dedicated to Mozart
Buy the right to download a single pdf score, including all parts, online, and permission to duplicate or print it as required for one quintet: NZ$50.00
Orders are saved in a secure Paypal shopping cart which is viewed on a separate browser tab. When you have finished shopping, simply Check Out for a Secure Guest check out using your credit card, or to use an existing Paypal account choose Paypal Check Out.
Orders are processed every 5 minutes. An email with a link to each file should arrive within 6 minutes of checking out. If it does not arrive we will likely notice during a New Zealand working day but please send an email to bellbirdpublications at gmail dot com if you have any problems with ordering.