Oboe Sonata
Also know as Cartoon: Fantasy for Oboe and Piano
by Anthony Ritchie, for oboe and piano, Opus 70b
In 3 contrasting movements, this piece contains a mixture of lively, bright ideas and more soulful ones. It is on the Trinity College Diploma repertoire list (ATCL/LTCL/FTCL), and is 17 minutes long.
Watch Noah Rudd play Cartoon: Fantasy for Oboe and Orchestra with the Auckland Youth Orchestra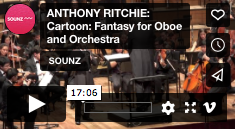 There is a piano reduction of the orchestral version available as a pdf from this website.
Programme Note
This sonata started life as a concerto for soprano saxophone called Cartoon: Fantasy for Saxophone and Orchestra, and was commissioned by New Zealander Mark Hobson with financial assistance from the Arts Council of New Zealand. Ritchie transcribed the work for oboe and piano in 2002, but the sonata had to wait until March 2010 for its premiere. It is in one continuous movement, divided into three main sections.
The first section has a cartoon-like character: it is cheeky, changeable and light in spirit, but has darker elements as well. The fast tempo eventually fades into a slow, lyrical section that features a soulful melody on oboe over slowly shifting harmonies. Here the mood is sorrowful and reflective. The third section opens with bold chords on the piano, before a wistful theme appears on oboe, in waltz time. The tempo accelerates and the music becomes agitated and driven. The waltz theme is integrated into this faster tempo leading to a cadenza-like passage towards the end, over a percussive piano rhythm. The sonata ends with a fragment of the oboe waltz theme, underpinned by strong piano chords.
It was recorded in Paris onto a CD Diversions:Autour du hautbois, featuring Marika Lombardi, oboe, and Debra Takakjian, piano.
The sonata was published with the simple title Sonate pour Hautbois (Sonata for Oboe) by the French publisher Fortin Armiane and can be purchased directly from them.