Autumn Moods
for cello and guitar, by Anthony Ritchie, Opus 196
YEAR: 2017
DURATION: 5:30 minutes
COMMISSIONED BY: Matthew Marshall
LEVEL: 3 | Professional and semi-professional musicians
Watch performance on vimeo.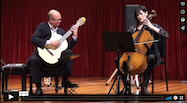 Buy the score from Hatchet Music.
Programme Note
Autumn Moods was commissioned by Matthew Marshall for performances by himself on guitar and Heleen Du Plessis on cello, during a New Zealand tour in 2017.
The piece is in two sections: the first is slow and melancholic, featuring a long arching cello melody; the second is quicker and has flowing repeated pattern through much of it. The new theme on cello is woven into a fabric of other ideas, some relating back to the slow section. There is more interplay between the instruments in this section, which gradually unwinds towards the end, coming to a reflective close.
Performance note: The Guitarist must tune the low E string down to D.
Dedicated to Matthew & Heleen