Ataturk Memorial
for SATB choir and organ or keyboard, or a cappella, by A Ritchie, Opus191b
This moving chorus comes from Gallipoli to the Somme and sets words by the great Turkish leader Mustafa Kemal Ataturk, taken from the Anzac war memorial in Canberra. This healing text is the emotional climax of the work, and a reflection of the tragedy that was World War I.
DURATION: 3 minutes
LIBRETTO: Mustafa Kemal Ataturk
LEVEL: 2 | Proficient amateurs and students
The chorus is at the end of this Dunedin performance
or an unaccompanied version at 55:42 of thisWhānau Voices of Aotearoa, far from home performance.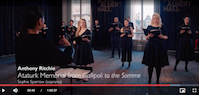 This chorus was arranged by the composer for organ from the original orchestral version - Ritchie's Gallipoli to the Somme Opus 191
Those heroes who shed their blood and lost their lives, you are now lying in the soil of a friendly country. Therefore rest in peace. There is no difference between the Johnnies and the Mehmets to us where they lie side by side in this country of ours. You, the mothers who sent their sons from far away countries wipe away your tears, your sons are now lying in our bosoms and are in peace. After having lost their lives on this land they become our sons as well.
Orders are saved in a secure Paypal shopping cart which is viewed on a separate browser tab. When you have finished shopping, simply Check Out for a Secure Guest check out using your credit card, or to use an existing Paypal account choose Paypal Check Out.
Orders are processed every 5 minutes. An email with a link to each file should arrive within 6 minutes of checking out. If it does not arrive we will likely notice during a New Zealand working day but please send an email to bellbirdpublications at gmail dot com if you have any problems with ordering.