Three Pieces for J.A.R.
for piano, by Anthony Ritchie, Opus 184
I - Fanfare
II - Aria for Anita
III - Perpetua
YEAR: 2015
DURATION: 10 minutes
Watch performance by pianist Emma Sayers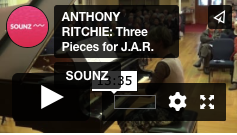 Programme Note
These pieces were written to commemorate the passing of John Anthony Ritchie, composer and musician, and father of Anthony. They were commissioned by Margaret Nielsen, pianist and long-time friend of John Ritchie. The pieces attempt to capture different aspects of John's life.
The Fanfare reflects his long involvement with the brass community, both in terms of brass bands and orchestral brass. It also has elements of humour, something John appreciated in the music of Malcolm Arnold and others.
Aria for Anita reflects on soprano Anita Ritchie, John's wife, and references one of her favourite songs, Solveig's Song by Grieg.
Perputua uses a 4-note motif from John's Clarinet Concertino as a starting point, developing perpetual motion through repetition of rhythms and ideas. The title is also a reference to the old prayer ending and let light perpetual shine upon him. The music fades into starry nothingness at the end.
Dedicated to Margaret Nielsen
Buy the right to download a single pdf score, online, and permission to duplicate or print it as required for one piano player: NZ$15.00
Orders are saved in a secure Paypal shopping cart which is viewed on a separate browser tab. When you have finished shopping, simply Check Out for a Secure Guest check out using your credit card, or to use an existing Paypal account choose Paypal Check Out.
Orders are processed every 5 minutes. An email with a link to each file should arrive within 6 minutes of checking out. If it does not arrive we will likely notice during a New Zealand working day but please send an email to bellbirdpublications at gmail dot com if you have any problems with ordering.