NEWS FROM 2017
WHAKATIPUA PERFORMED AND BROADCAST BY TAKACS QUARTET
Anthony's string quartet movement entitled Whakatipua was performed recently by The world-famous Takacs Quartet, in Auckland and Wellington. Radio NZ recorded the concert for broadcast, and you can hear this by following this link: RADIO NZ.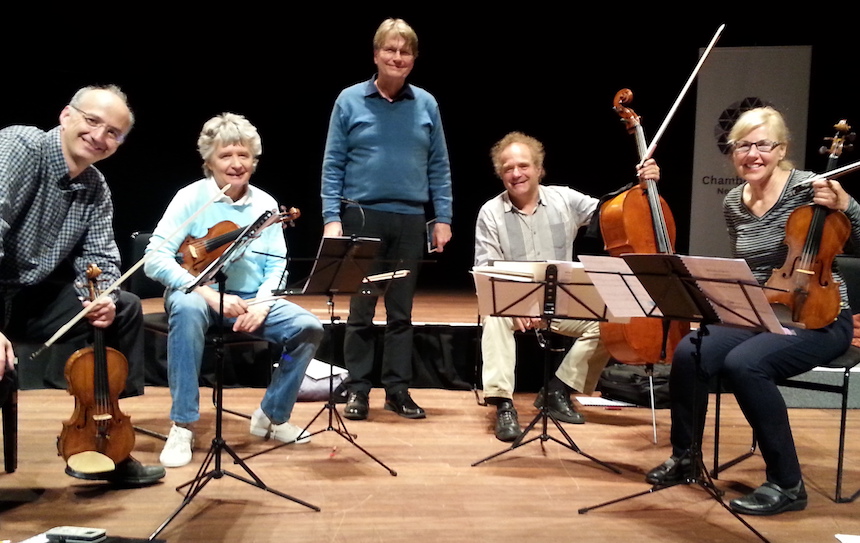 PIANO PIECE ON NEW ATOLL CD
Touched for solo piano was released in May on a CD collection of NZ piano works entitled Sarajevo. The CD was recorded by pianist Jian Liu for Atoll Records, and can be purchased from Marbecks.
Touched was originally commissioned by Stephen de Pledge for a tour of the UK, and takes the madness of being in love as its theme.
TWELVE PREMIERES IN ONE DAY
Cornet Rhapsody was premiered no less than twelve times on the same day, at The National Brass Band Championships in May. It was commissioned by the Brass Band Association of NZ (BBANZ) as the test piece for solo cornets. It references a Hungarian folk tune and shows off the soloist to a high degree. Dunedin's John Lewis was the winner on the night, with his performance being live streamed from the event. The sheet music for Cornet Rhapsody is available from BBANZ for purchase, or from the composer.
TWO ORCHESTRAL WORKS ONLINE
Balkan Bagpipes (1985) and Procession (2008) have been released as performances online by SOUNZ. These pieces were chosen as part of the Resound series, and features The Westlake High Girls and Boys Orchestra under the baton of David Squire. Anthony was thrilled to have one of his earliest commissioned works, Balkan Bagpipes, recorded for the first time. It shows strong influences from East European folk music, following his studies in Budapest in 1983-4.
Procession was written as part of Anthony's residency with the Manukau Orchestra, and evokes memories of city parades. Both pieces are playable by amateur and school orchestras.
CARTOON: FANTASY FOR OBOE AND ORCHESTRA PREMIERE
Cartoon was premiered by Noah Rudd and The Auckland Youth Orchestra on May 20th. This concerto is a reincarnation of his work Cartoon: Fantasy for Soprano Saxophone and Orchestra (1996) which was later arranged for oboe and piano: The Oboe Sonata (2002). The sonata version has been published and recorded on CD by Marika Lombardi, and performed frequently in New Zealand. The Oboe version was instigated by young Noah Rudd, as part of winning a performance competition in Auckland. It should be a welcome addition to the oboe concerto repertoire. Here is a link to this performance.
AUTUMN MOODS
Anthony's most recent composition is a short piece for cello and guitar, called Autumn Moods. It was commissioned by Matthew Marshall for a tour he is undertaking with cellist Heleen Du Plessis and will be performed on August 10th 6p.m. in the Sargood Centre, 40 Logan Park Drive, Dunedin,
TE MOANA ON YOUTUBE
Te Moana, written for The Royal NZ Navy Band, can now be watched on Youtube. The concert band commissioned the piece in 2016 to celebrate the Navy's 75th anniversary.
SARAH WATKINS PLAYS PIANO CONCERTO NO. 3
On September 17 Sarah Watkins will play Anthony's Piano Concerto No.3 with the St Matthew's Orchestra, conducted by Michael Joel. The concerto has enjoyed performances with Emma Sayers, and the Auckland Philharmonia as well as the Manukau Orchestra. It has also been performed in a version for two pianos by Emma and Richard Mapp.
GALLIPOLI TO THE SOMME ONLINE
Gallipoli to the Somme for choir, soloists and orchestra is now available for viewing from SOUNZ.
The recording of this magnum opus was done by Radio NZ Concert, and combined with the film by Chris Watson (SOUNZ). An interview with Anthony is also available.
ANTHONY AS PATRON
Following the performance of Gallipoli to the Somme Anthony has been recognized for his contribution to choral music in the community by being appointed Patron of City Choir Dunedin. He is already patron of the Southern Youth Choir.
City Choir Dunedin will be performing his Lullabies on September 2nd, in Knox Church Dunedin.
REMEMBER PARIHAKA ON YOUTUBE
The Diocesan School for Girls has recorded Anthony's orchestral piece Remember Parihaka for Youtube.
NEWS FROM 2016
AWARDS NEWS:
Winner, Best Classical Album, NZ Music Awards
Fjarren: In the Distance with Anthony's Clarinet Quintet and Purakaunui at Dawn has won its category in the 2016 NZ Music Awards.
(Atoll, ACD 316: see also under RECORDINGS. Copies can be ordered from the composer, or from Atoll Records.)

The CD Zephyr: Music for Winds with Anthony's Wind Quintet has also been nominated for the NZ Music Awards.
WIND QUINTET ON CD
Anthony's Wind Quintet (2009) has been released on CD, entitled Zephyr: Music for Winds, Atoll CD, ACD 716. The work was commissioned by the group Zephyr who include New Zealand Symphony Orchestra players. It is available through Marbecks in Auckland or Atoll Records.
ANTHONY'S FOUR SYMPHONIES AVAILABLE ONLINE
Recently SOUNZ completed an online resource on Anthony's symphonies, including recordings and background information, plus an introduction by the composer. The recordings include:
Symphony No.1 NZ Symphony Orchestra, conductor Ken Young, RNZ 1998
Symphony No.2 Auckland Philharmonia Orchestra, conductor James Sedares, RNZ 2000
Symphony No.3 Dunedin Symphony Orchestra, conductor Simon Over, RNZ, 2010
Symphony No.4 Christchurch Symphony Orchestra, conductor Tom Woods, soprano Jenny Wollerman, SOUNZ film, 2014
Follow this link: A Ritchie Symphonies.
In addition, Anthony's Symphony No.1 has just been published by Promethean Editions (Wellington), to go with the publication of Symphony No.3.
NEW BRASS PIECE ON CD
The Woolston Brass Band of Christchurch has released a CD which includes He is Starlight which Anthony composed in 2015, to commemorate his father's death. Buy it here.
TakoTsubo recording available
Link to Sue Wootton's blog on Tako-Tsubo, and recording of the song TakoTsubo, performed by Cantus Columba, musical director Richard Madden.
WORLD WAR I COMMEMORATIVE WORK WARMLY RECEIVED
Gallipoli to the Somme was premiered at Arts Festival Dunedin on October 1, by the Dunedin Symphony Orchestra, City Choir Dunedin, Southern Youth Choir, with soloists Anna Leese and Martin Snell, conducted by Simon Over. This new work is like an oratorio, that includes songs, choruses, and orchestral pieces. It is a humanist statement about ordinary peoples' experiences of World War I. Soldiers, nurses, lovers, children etc from different nationalities are represented in this work, through diary entries, poems, traditional texts, and even a military plan of battle.
The piece was commissioned to commemorate WW1, with funding from Creative NZ.
The performance received a standing ovation, and great reviews. Here's what Elizabeth Bouman wrote in the ODT: "Ritchie will be remembered as one of the greatest composers of his time."
Gallipoli to the Somme will be broadcast on RNZ Concert on the evening of November 11 - Armistice Day. Following that, the performance will be available to be viewed online, via the SOUNZ website.
CHORAL RECORDING PROJECT IN BELGIUM
Anthony recently travelled to Belgium to help with the recording of his choral works by the Aquarius choir. This top-quality professional choir has performed four of his works before, including Salaam in 2013. The CD has the theme of 'Survivors' and includes two newly composed works for the choir: The Survivor and Ellen's Vigil (based on an aria from Gallipoli to the Somme).
Also on the CD are new recordings of This Sea We Cross Over, Widow's Songs and Song of Hope.
Producer Wayne Laird travelled to Belgium to make the recording, to be released on Atoll early in 2017.
SOUNZ RECORDINGS OF PIECES FOR AMATUER ORCHESTRA
In September The Westlake Orchestra (Westlake Girls' and Boys' Schools in Auckland) recorded two of Anthony's works for amateur orchestras: Balkan Bagpipes (1985) and Procession (2008).
Conducted by David Squire, these recordings were also filmed and will be available on the SOUNZ website soon.
EXPRESSIONS RELEASED ON BANDCAMP
The album Expressions: Piano Music of Anthony Ritchie, performed by Tom McGrath, has been released on Bandcamp. Download individual tracks or the whole album.
Music for Tristan, for piano, has also been made available on Bandcamp, as a separate track.