NEWS FROM 2015
'A Bugle Will Do' performed in Belfast, Northern Ireland
Anthony's overture 'A Bugle Will Do' (1996) was performed in August by The Ulster Orchestra under Nicholas Braithwaite, and broadcast on BBC3 recently. If you would like to hear the broadcast go to the following link. Anthony's overture is first on the programme.
Two New CDs Released
Atoll Records has just released Fjarren: In the Distance featuring clarinet quintets by Anthony and fellow New Zealand composer Ross Harris. Their works are superbly played by the Swedish group The Dalecarlia Quintet, with Kiwi Anna McGregor on clarinet.
Anthony's Clarinet Quintet dates from 2006 and was commissioned by Christopher Marshall for Gretchen La Roche and The New Zealand String Quartet to perform. It's an epic work that explores lots of emotions from joy to despair. It also commemorates the 250th anniversary of Mozart's birth by referencing that composer's own clarinet quintet.
Ross Harris' mysterious and veiled Fjarren makes an excellent foil for Anthony's piece, and also references the past, this time a theme of Brahms'. The CD is rounded out by Anthony's short piece Purakaunui written especially for the Dalecarlia Quintet, and toured by them as part of a Chamber Music NZ series in 2013.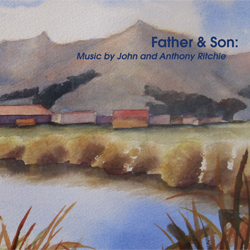 In September 2014 John Ritchie, Anthony's father, died at the age of 93. His career as a musician and composer touched many people's lives. He is best known for Kiwi classics such as the Clarinet Concertino or Papanui Road Overture.
On this new album, Father & Son: Music by John and Anthony Ritchie, for the first time John's ground-breaking song cycle Four Zhivago Songs (1977) are recorded onto CD by soprano Rebecca Ryan, with John van Buskirk at piano. These settings of Pasternak's poems are moving, whimsical, lyrical, modernist... and many other things. John's final composition, his Clarinet Sonata, also features on the album. This sonata was completed by Anthony during the last years of John's life, when his eyesight prevented him from working on composition. Performed by Stephen Cranefield, with pianist Tom McGrath, this sonata is characteristic John Ritchie, finishing with a cheeky and virtuosic finale.
The other half of the CD features pieces by Anthony that all involve the violinistic skills of the wonderful Tessa Petersen, including Variations for G.B.P. for violin and organ (David Burchell, organ), Four Violin Duos (with Justine Cormack, violin) and Thoughts from an Inner Garden (with Rebecca Ryan and John van Buskisk). The last item is a cycle of seven songs, setting poems by the late Diana Neutze, who suffered for over 20 years from multiple sclerosis. These are moving songs, reflecting on life and death, and Nature.
'Stations' Recording of the Year
MusicWeb International editor Nick Barnard has selected Anthony's 'Stations' as one of his Recordings of the Year for 2015. Read the full selection here.
This Other Eden - opera launched on film
Anthony's latest opera This Other Eden has been released on film by SOUNZ (Centre for NZ Music), thanks to the efforts of Chris Watson (film) and Danny Buchanan (audio). The opera was premiered by Opera Otago in 2014 as part of the Dunedin Arts Festival, with Jacqueline Coats directing and Tecwyn Evans conducting, and received rave reviews. From TheatreView's Brenda Harwood:
"Ritchie's score brilliantly evokes the sound of New Zealand. The music is spellbinding... This is New Zealand history as we have never seen it before, and is a brilliant addition to this country's opera tradition. Highly recommended."
It is based on the dramatic story of missionary Thomas Kendall and his dealings with Nga Puhi chief, Hongi Hika in the early days of New Zealand settlement (1814-1820). The libretto by Michelanne Forster tells a story of love, ambition, idealism and harsh reality, based on historical fact. It includes the famous visit by Hongi and Kendall to King George IV, and the subsequent musket wars. The story is related through the eyes of Kendall's long-suffering wife, Jane. The cast of This Other Eden includes brilliant young performers Elizabeth Mandeno (Jane Kanedall), James Rodgers (Thomas Kendall), Joel Amosa (Hongi Hika), James Adams (Samuel Marsden), Matt Landreth (the convict Stockwell), Tamara Mayo (Tungaroa) and Clinton Fung (Waikato).
The film was made at the dress rehearsal and is divided into 4 segments that you can watch here.
Whispers of Gallipoli
Whispers of Gallipoli is Anthony Ritchie's response to baritone Robert Tucker's commission of a new work about the tragedy of Gallipoli on this the event's 100th anniversary. Anthony has used the words of soldiers, anxious mothers, poets looking back on the campaign and a range of other sources to build a powerful picture of events both at and surrounding Gallipoli.
The song cycle was premiered by Robert Tucker and Terence Dennis at Marama Hall last Wednesday. The following Resound film was made as a studio recording a week prior to that, also at Marama Hall. Danny Buchanan engineered and produced the audio while Chris Watson made the film. Resound is funded by NZ On Air. #WW100
Whispers of Gallipoli has also been recorded for a SOUNZ film, and will be available on the SOUNZ website.
Lullabies
Anthony Composer-in-Residence in Sweden
Anthony has recently been chosen as Composer-in-Residence for a 3-week stint at the seaside town of Visby in Sweden, in October-November 2016. The Visby International Centre for Composers offers the use of well-equipped studios and the stimulating company of other creators. Anthony will be working on a project that collaborates with Swedish-based clarinettist Anna MacGregor and violinist, Manu Berklejon. He is aiming to make this part of his sabbatical leave from Otago University in 2016.
Whakatipua for string quartet chosen for recordings
Anthony's 1995 work Whakatipua for string quartet has been chosen for The inaugural Aroha String Quartet recordings later this year. The Aroha String Quartet features Haihong Liu, Simeon Broom, Zhongxian Jin and Robert Ibell, and has developed an impressive track record over a decade.
They are collaborating with SOUNZ on the recordings, which will be made available on the SOUNZ website in 2016. Whakatipua was written for the 60th birthday of Pat Jones, and has also been performed in version for string orchestra; this will be its first recording.
'Spring String Trio' (2013)
Violin, Kate Oswin
Viola, Sophia Acheson
Cello, Heather Lewis
Film by Chris Watson, Centre for NZ Music
Stations continues to get good reviews
Symphony No.4 Stations received a great review by Brian Wilson on MusicWeb International late in May 2015. To quote:
"In many respects it's comparable with Britten's War Requiem, though not on the same level. After some very intense sections, often as sorrowful as Gorecki's symphony of that name, the work ends with celebratory music leading to stillness and quiet..."
"The value lies in the quality of the music and the performance, and both are very much worth your attention. If you're not sure, sample the music from Qobuz - subscribers can stream the whole work: don't make an instant judgment based on one hearing - but you won't find the booklet there. For that you need the CD, which can be obtained at an attractive price by clicking the MusicWeb-International purchase button."
Just a reminder also that you can view the live performance of Stations on the SOUNZ website